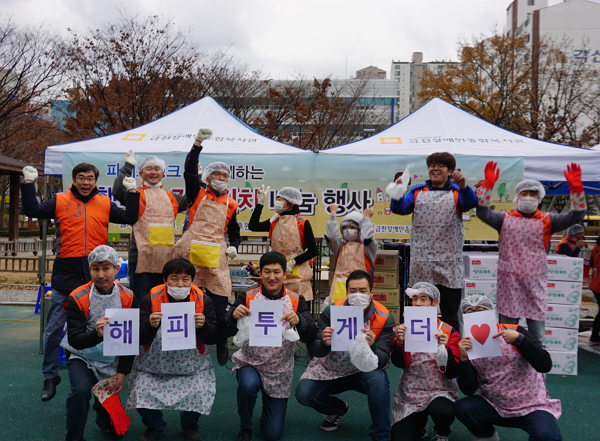 PIOLINK, a specialized company for optimizing cloud data center, worked for 'Kimjang (Kimchi-making for the winter) Share Event' on Nov. 30th with Geumcheon Rehabilitation Center for the Disabled.

Rehabilitation Center for the Disabled is a specialized organization to work for intensive rehabilitation research with the goal to improve the autism developmental disability and family welfare environment. In collaboration with Guemcheon Rehabilitation Center for the Disabled, PIOLINK has offered various charities and voluntary activities to the disadvantaged, including meal cost and education cost.

This event day is designed to reduce the economic burden and expand the social share culture by providing Kimjang Kimchi for the preparations of the disabled with economic difficulties for winter. Also, PIOLINK offered the free law consulting and education to residents with the support of Seoul Southern Regional Judicial Association.
The products used in this event were provided with the support of Happy Together, an in-house club of PIOLINK; the participation of Happy Together volunteer corps added more meaning.

"We have worked for Kimjang share event annually, which I think can contribute to the spread of in-house share culture and the provision of our warm heart to the disabled to live happily during the winter. This event will be meaningful to employees with the share of experience. It lasts long", Cho Young Cheol, CEO & president in PIOLINK, said.